HISTORY OF KP CONCEPTS:
Starting in 2010 officially, KP Concepts has been helping others visualize their ideas for 13 years full time now. If you're wondering what KP stands for, it's the initials of my name Koapono Patrick. As a kid I was always drawing cars and trucks nonstop then later transitioned to digital design in high school. This is when I realized people were willing to pay for "work" that I truly enjoyed doing as a hobby and knew it was the field I wanted to pursue. To take things serious after high school, I attended Francis Tuttle Tech Center in Oklahoma City where I earned a certificate in Graphic Communications (graphic design, photography, and printing) in just half the time it usually takes to complete.

During my schooling I became busier and busier with custom vehicle renderings which is when I branded KP Concepts and haven't looked back since. Aside from vehicle renderings, photo/video was another hobby of mine which is why I teamed up with the digital magazine Solo Films DVD from 2011-2016 travelling the country filming custom rides and car shows. During that time I even started shooting/writing for printed magazines such as Mini Truckin, Truckin, and 8-Lug.

Fast forward to today at the age of 32, I've continued to sharpen my skills and expand my abilities while building a client base ranging from your "average Joe" building a vehicle in his garage, to custom shops building vehicles for their own clients, to corporations building vehicles for promotion and events like SEMA. Whether it be a big or small project, I believe that when you do something you enjoy you put more effort and pride into it. There is no big team behind the scenes here, just a dedicated designer who is multifaceted to offer a personable experience with quality services and products at affordable rates.
Rendering to reality of Josh Dungan's GMC Sierra Denali that was built on Velocity channel's Texas Metal season 2!

Click here to check out my latest Truckin' Magazine feature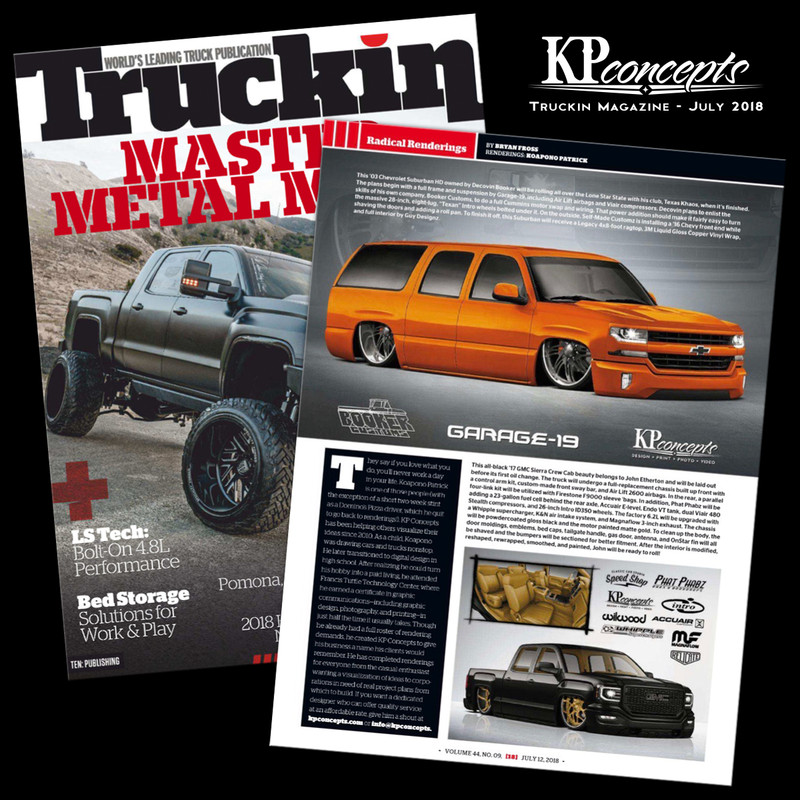 Get in touch with me to go over your next project!
FROM THE STORE: